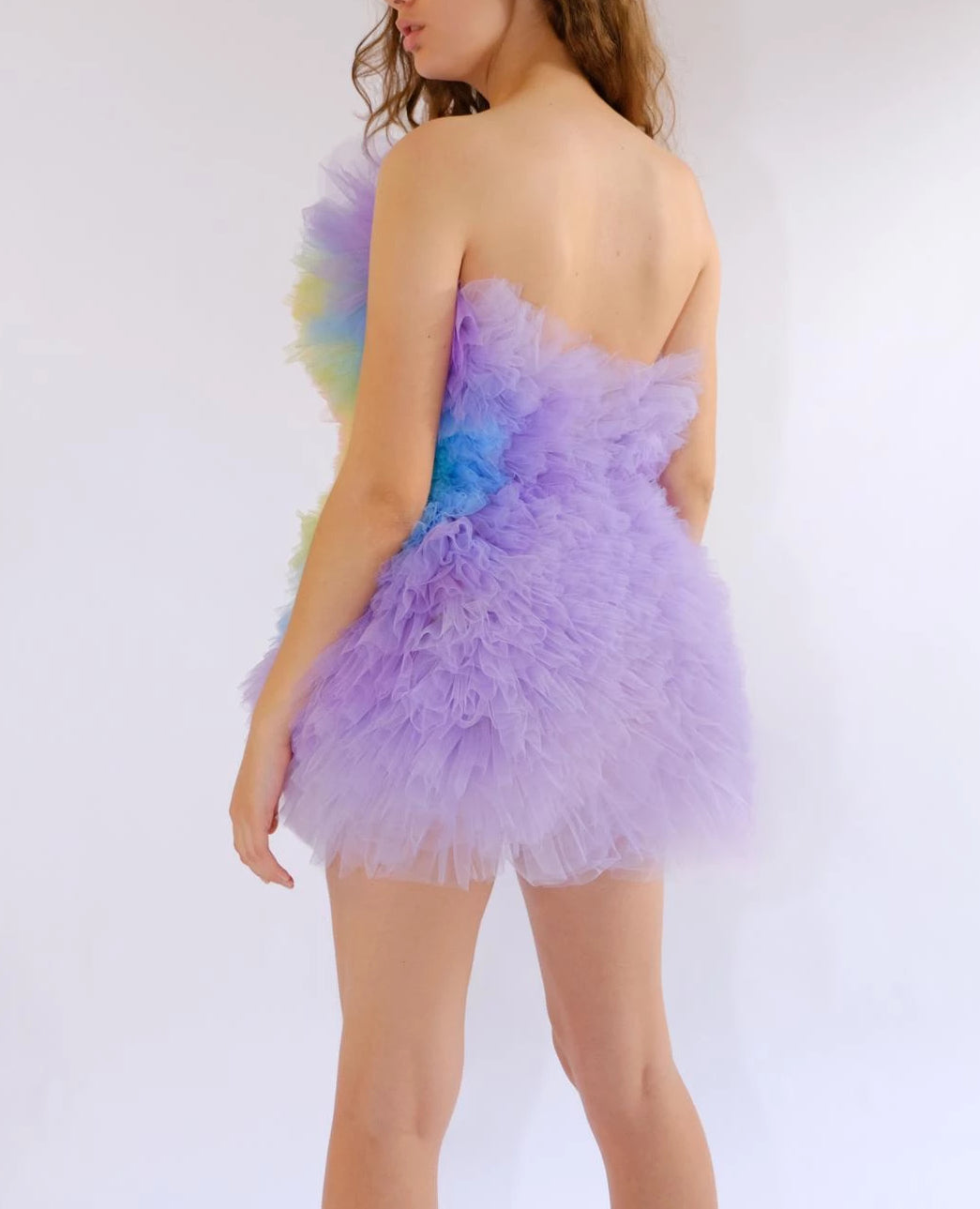 Ships in 1 to 3 weeks
Bringing to life the spectrum of colors with this tulle heaven dress. Pre order only. 
Made of tulle. 
Care Instructions
Hand wash in cold water / no machine wash / handle with care.
Lay flat to dry / do not dry clean / do not wring. 
Iron at low temperature / steam ironing may be risky.
© 2019 LIRIKA MATOSHI INC.
ALL RIGHTS RESERVED
Clothing Size Guide
Inches
| | | | |
| --- | --- | --- | --- |
| Size | US | UK | EU |
| XS | 0-2 | 4-6 | 32-34 |
| S | 2-4 | 6-8 | 34-36 |
| M | 6-8 | 10-12 | 38-40 |
| L  | 8-10 | 12-14 | 40-42 |
| XL | 12-14 | 16-18 | 44-46 |
| XXL | 14-16 | 18-20 | 46-48 |
| XXXL | 16-18 | 20-22 | 48-50 |
| | | | |
| --- | --- | --- | --- |
| Size |  Bust (in) | Waist (in) | Hips (in) |
| XS | 30-32 | 24-26 | 32-34 |
| S | 32-34 | 26-28 | 34-36 |
| M | 34-36 | 28-30 | 36-38 |
| L | 36-40 | 30-34 | 38-42 |
| XL | 40-44 | 34-38 | 42-46 |
| XXL | 44-48 | 38-42 | 46-50 |
| XXXL | 48-52 | 42-46 | 50-54 |
Centimeters
| | | | |
| --- | --- | --- | --- |
| Size | US | UK | EU |
| XS | 0-2 | 4-6 | 32-34 |
| S | 2-4 | 6-8 | 34-36 |
| M | 6-8 | 10-12 | 38-40 |
| L  | 8-10 | 12-14 | 40-42 |
| XL | 12-14 | 16-18 | 44-46 |
| XXL | 14-16 | 18-20 | 46-48 |
| XXXL | 16-18 | 20-22 | 48-50 |
| | | | |
| --- | --- | --- | --- |
| Size |  Bust (cm) | Waist (cm) | Hips (cm) |
| XS | 76-81 | 61-66 | 81-86 |
| S | 81-86 | 66-71 | 86-91.5 |
| M | 86-91.5 | 71-76 | 91.5-96.5 |
| L | 91.5-101.5 | 76-86 | 96.5-106.5 |
| XL | 101.5-111 | 86-96.5 | 106.5-116.5 |
| XXL | 111.5-122 | 96.5-106.5 | 116.5-127 |
| XXXL | 122-132 | 106.5-116.5 | 127-137 |
Kids Clothing Size Guide
Inches
| | | | | | | | | | | | | |
| --- | --- | --- | --- | --- | --- | --- | --- | --- | --- | --- | --- | --- |
| Age | 1 | 2 | 3 | 4 | 5 | 6 | 7 | 8 | 9 | 10 | 11 | 12 |
| Length | 34 | 36 | 38.5 | 41 | 43 | 45.5 | 48 | 50 | 52 | 55 | 57.5 | 59 |
| Bust | 21.5 | 22 | 22.5 | 23 | 23.5 | 24 | 24.5 | 25 | 26 | 27 | 28 | 30 |
| Waist | 20 | 20.5 | 21 | 21.5 | 22 | 22.5 | 23 | 23.5 | 24 | 24.5 | 25 | 25.5 |
Centimeters
| | | | | | | | | | | | | |
| --- | --- | --- | --- | --- | --- | --- | --- | --- | --- | --- | --- | --- |
| Age | 1 | 2 | 3 | 4 | 5 | 6 | 7 | 8 | 9 | 10 | 11 | 12 |
| Length | 86 | 92 | 98 | 104 | 110 | 116 | 122 | 128 | 134 | 140 | 146 | 152 |
| Bust | 55 | 56 | 57 | 58 | 59 | 60 | 62 | 64 | 66 | 68 | 72 | 76 |
| Waist | 51 | 52 | 53 | 54 | 55 | 56 | 57 | 58 | 59 | 61 | 63 | 65 |
Dog's Clothing Size Guide
Inches/LBS
| | | | | |
| --- | --- | --- | --- | --- |
| Size |  Weight | Neck | Girth  | Length  |
| XS | 5-11 | 7-10 | 10-16 | 8-13 |
| S | 9-16 | 8-12 | 15-21 | 12-16 |
| M | 15-31 | 10-15 | 20-26 | 15-19 |
| L | 24-43 | 12-18 | 23-29 | 17-21 |
| XL | 40-65 | 17-22 | 25-32 | 20-29 |
| XXL | 60-115 | 20-23 | 25-32 | 20-29 |

How to Measure:
Clothing Size Guide
Inches
| | | | |
| --- | --- | --- | --- |
| Size | US | UK | EU |
| XS | 0-2 | 4-6 | 32-34 |
| S | 2-4 | 6-8 | 34-36 |
| M | 6-8 | 10-12 | 38-40 |
| L  | 8-10 | 12-14 | 40-42 |
| XL | 12-14 | 16-18 | 44-46 |
| XXL | 14-16 | 18-20 | 46-48 |
| XXXL | 16-18 | 20-22 | 48-50 |
| | | | |
| --- | --- | --- | --- |
| Size |  Bust (in) | Waist (in) | Hips (in) |
| XS | 30-32 | 24-26 | 32-34 |
| S | 32-34 | 26-28 | 34-36 |
| M | 34-36 | 28-30 | 36-38 |
| L | 36-40 | 30-34 | 38-42 |
| XL | 40-44 | 34-38 | 42-46 |
| XXL | 44-48 | 38-42 | 46-50 |
| XXXL | 48-52 | 42-46 | 50-54 |
Centimeters
| | | | |
| --- | --- | --- | --- |
| Size | US | UK | EU |
| XS | 0-2 | 4-6 | 32-34 |
| S | 2-4 | 6-8 | 34-36 |
| M | 6-8 | 10-12 | 38-40 |
| L  | 8-10 | 12-14 | 40-42 |
| XL | 12-14 | 16-18 | 44-46 |
| XXL | 14-16 | 18-20 | 46-48 |
| XXXL | 16-18 | 20-22 | 48-50 |
| | | | |
| --- | --- | --- | --- |
| Size |  Bust (cm) | Waist (cm) | Hips (cm) |
| XS | 76-81 | 61-66 | 81-86 |
| S | 81-86 | 66-71 | 86-91.5 |
| M | 86-91.5 | 71-76 | 91.5-96.5 |
| L | 91.5-101.5 | 76-86 | 96.5-106.5 |
| XL | 101.5-111 | 86-96.5 | 106.5-116.5 |
| XXL | 111.5-122 | 96.5-106.5 | 116.5-127 |
| XXXL | 122-132 | 106.5-116.5 | 127-137 |
Kids Clothing Size Guide
Inches
| | | | | | | | | | | | | |
| --- | --- | --- | --- | --- | --- | --- | --- | --- | --- | --- | --- | --- |
| Age | 1 | 2 | 3 | 4 | 5 | 6 | 7 | 8 | 9 | 10 | 11 | 12 |
| Length | 34 | 36 | 38.5 | 41 | 43 | 45.5 | 48 | 50 | 52 | 55 | 57.5 | 59 |
| Bust | 21.5 | 22 | 22.5 | 23 | 23.5 | 24 | 24.5 | 25 | 26 | 27 | 28 | 30 |
| Waist | 20 | 20.5 | 21 | 21.5 | 22 | 22.5 | 23 | 23.5 | 24 | 24.5 | 25 | 25.5 |
Centimeters
| | | | | | | | | | | | | |
| --- | --- | --- | --- | --- | --- | --- | --- | --- | --- | --- | --- | --- |
| Age | 1 | 2 | 3 | 4 | 5 | 6 | 7 | 8 | 9 | 10 | 11 | 12 |
| Length | 86 | 92 | 98 | 104 | 110 | 116 | 122 | 128 | 134 | 140 | 146 | 152 |
| Bust | 55 | 56 | 57 | 58 | 59 | 60 | 62 | 64 | 66 | 68 | 72 | 76 |
| Waist | 51 | 52 | 53 | 54 | 55 | 56 | 57 | 58 | 59 | 61 | 63 | 65 |
Dog's Clothing Size Guide
Inches/LBS
| | | | | |
| --- | --- | --- | --- | --- |
| Size |  Weight | Neck | Girth  | Length  |
| XS | 5-11 | 7-10 | 10-16 | 8-13 |
| S | 9-16 | 8-12 | 15-21 | 12-16 |
| M | 15-31 | 10-15 | 20-26 | 15-19 |
| L | 24-43 | 12-18 | 23-29 | 17-21 |
| XL | 40-65 | 17-22 | 25-32 | 20-29 |
| XXL | 60-115 | 20-23 | 25-32 | 20-29 |

How to Measure:
Recently Viewed